Let's Enjoy Tokyo Tours with A Knowledgeable Guide! 
Discover the wonders of Tokyo with Japan Wonder Travel's guided tours! Our expert guides will take you to the top tourist destinations, introduce you to delicious local cuisine, teach you about Japanese traditional culture, or show you the vibrant nightlife of Tokyo. With so many attractions to choose from, it can be overwhelming to plan your itinerary. Let our knowledgeable guides lead the way and uncover hidden gems you may have otherwise missed. Join us for an unforgettable Tokyo experience!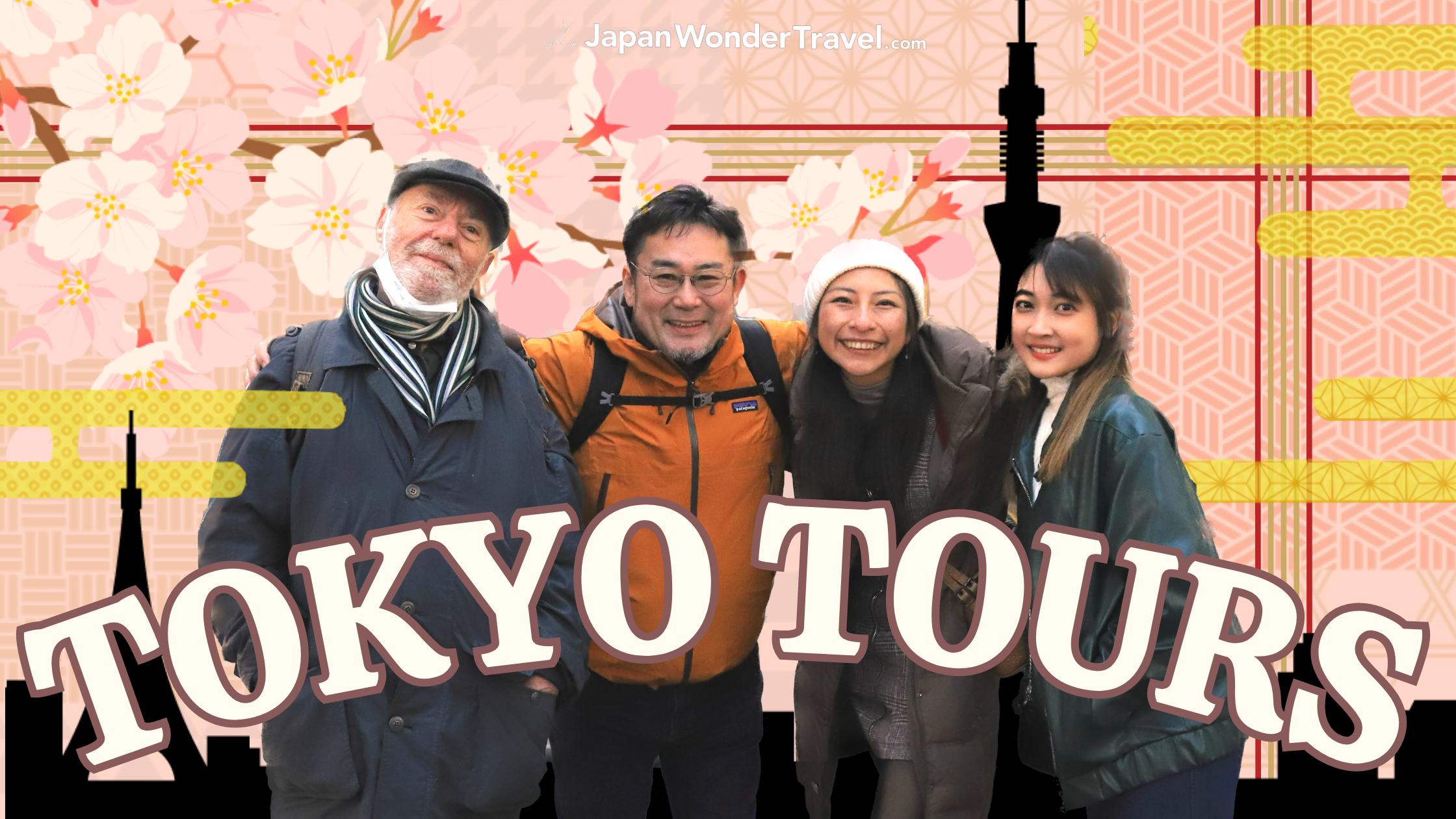 Best Tours in Tokyo
Discover the top tours in Tokyo with Japan Wonder Travel to make your trip an unforgettable experience.
Tsukiji Fish Market Tour @Tsukiji
If you're looking for a truly authentic food and drink experience in Tokyo, look no further than the Tsukiji Fish Market Food and Drink Tour!
Our knowledgeable guides will take you through a bustling market to try some street food and a small wholesale area to see a range of seafood and other foods. Then, we'll visit a local sushi restaurant for some of the freshest and most mouth-watering sushi. You'll learn insider tips and have a great time!
¥11,500~, 3 hours
Tokyo 1-Day Highlights Private Walking Tour (Customizable, 8-Hour)
On this guided Tokyo private walking tour, you will hit all the best highlights of the city in just one day. This tour is fully customizable and we can always tailor it to meet your needs and requests. You'll be accompanied every step of the way by one of our knowledgeable guides who will cater to any questions or concerns you may have.
¥60,000~, 8 hours
For those who are unsure what to do but want to hit all the big spots, we also offer a private tour with a fixed itinerary too!
¥40,000~, 8 hours
Shinjuku Bar Hopping Tour: Experience Tokyo's Nightlife in Izakaya
Join us and explore Shinjuku with a knowledgeable guide to enjoy bar hopping in the biggest drinking town in Tokyo!
When you go out drinking in Shinjuku, it's always more fun to try several different izakaya instead of just staying at one. Our Shinjuku bar hopping tour will take you on an adventure through the city center where you'll have the chance to experience Tokyo's lively nightlife like a local and avoid the tourist traps!
¥12,000~, 3 hours
Tokyo Food and Drink Tours
On our Tokyo Food and Drink Tour, you'll have the chance to sample a variety of local delicacies while your guide shares their knowledge about the area. From unique street foods to classic favorites, this tour offers a warm and interactive experience with friendly people at shops.
With the guidance of a knowledgeable local, you're sure to have a special and memorable food adventure!
Tsukiji Fish Market Tour @Tsukiji
¥11,500~, 3 hours
Tokyo Sushi Making Experience + Tsukiji Fish Market Explore Tour
¥16,000~, 4 hours
Tokyo Local Street Food and Drink Tour @Sunamachi
¥11,500~, 3.5 hours
Tokyo Food and Drink Tour @Tsukiji and Asakusa
¥17,500~, 5.5 hours
Toyosu Wholesale Market Explore and Sushi Making Workshop
¥35,000~, 4 hours
Tokyo Private Highlights Tours
Tokyo 1-Day Highlights Private Walking Tour (Customizable, 8-Hour)
¥60,000~, 8 hours
Tokyo Private Tour [Customizable, 4 Hours]
¥35,000~, 4 hours
Tokyo Private Half Day Tour (Imperial Palace, Meiji shrine) 4 Hours
¥23,000〜, 4 hours
Tokyo Sumo Tours
Join us on our Sumo tours where you will get a chance to enjoy sumo in Tokyo! We offer daily morning practice tours where you can witness the real sumo wrestler train up close.
In January, May, and September, Grand Sumo Tournament takes place in Tokyo, and we offer a guided tour during those months!
You'll get the opportunity to gain an exclusive experience and learn about the traditional sport of Japan.
Tokyo Sumo Tournament Tour (January, May, September only)
¥13,000~, 3.5 hours
Sumo Morning Practice Tour in Tokyo, Sumida City
¥13,000~, 2 hours
[Audio Guide] Tokyo Sumo Morning Practice Tour: Watch Real Sumo Wrestlers Train
¥15,000~, 1.5 hours
Tokyo Anime & Pop Culture Tours
Akihabara Anime Tour: Explore Tokyo's Otaku Culture
¥4,000~, 1.5 hours
Tokyo Day Trip Tours
Looking to explore beyond Tokyo? There are plenty of popular tourist spots that are just a train or bus ride away.
From natural wonders to historical landmarks, there's no shortage of fascinating places to visit. Consider taking a day tour from Tokyo, like a bus tour to the iconic Mt. Fuji, or go on an educational Fukushima Exclusion Zone Tour to make the most of your trip!
Mt. Fuji Day Trip from Tokyo Bus Tour
¥15,000~, 10 hours
Fukushima Exclusion Zone Day Tour from Tokyo
¥34,000~, 12 hours
Kamakura Private Walking Tour
¥53,000~, 6 hours
Nikko 1–Day Private Walking Tour (Customizable)
¥63,000~, 7 hours
Why you should join the tours in Tokyo
You can explore Tokyo on your own but it's much easier and fruitful if you explore with a local guide. Not only do the guides know about the area, but also they can tell a story along the way about the history and culture deeply rooted in the daily lives of local people. They can take you to the must-visit spots as well as locally known places that are hidden from tourists. These are experiences you can only get from guided tours! Your guide will navigate through the biggest city in Japan to ensure smooth transportation, interpret everything for you to overcome the language barrier, and become your great travel partner.
Japan Wonder Travel team is a passionate team of seasoned travelers, and they offer original tours that cater to a variety of interests and preferences. With our expertise and attention to detail, you can rest assured that your Tokyo adventure will be nothing short of remarkable.